Failure – The Best Teacher
Today, I want to discuss my first and most significant failure and how it was the best-worst thing that could have happened to me professionally. Not to brag, but in general, I have always had a fairly high success rate with whatever I choose to pursue.
However, that changed with Pino Napoli. My husband always had a desire to own his own business and as his partner and wife, I have supported that decision. Prior to our marriage, we agreed to live as though we had only one income and save the rest for our business endeavors. For ten years, we visited businesses for sale across the country and considered franchises or real estate ventures along the way. After a promising opportunity fell through, the broker reached out to us with another opportunity. Two business for sale by a single owner. The sale price so far beyond our budget that my initial response was, absolutely not. Fast forward through due diligence, attorneys, accountants, and trips, we closed on our new businesses and relocated for a second time to Florida.
I would manage human resources, business development and manage employees. My husband would manage field operations and finances. We were officially business partners. I will perhaps write about that experience in another post. I will say that running a business with your spouse when you have ideological differences makes for a wild ride.
The Good
The Unification Process
Pino Tile + Napoli Granite and Marble = Pino Napoli Tile & Granite
We decided to rename the unified company to "Pino Napoli Tile & Granite". We had two retail locations (Pompano Beach and Delray Beach, FL). Thirty employees (sales, admin/accounting, purchasing, driver, forklift operator, fabricators, cutters) plus subcontractors (Installers) and management staff.
After establishing a new company name, the next step was to develop a unified corporate identity and culture. First on the table was to design a new logo. I decided to turn this into a collaboration with the entire team which was a fun and natural way for us to learn about each other and work together on a project.
An added bonus is that everyone had an opportunity to contribute to something lasting and meaningful to the company. It was also a highly visible reminder of the importance of their contribution. As a company, we designed the logo to incorporate elements from both Pino and Napoli and retained Pino's original company mascot.
Next, I scheduled a 1-day workshop with the management staff to define our business objectives, next quarter sales goals, and core values that we would present together during our first all-hands meeting. This was such a fruitful experience that we decided to conduct these workshops each quarter as a leadership team.
In partnership with our sales managers, we developed a new sales employee training program and facilitated workshops with the sales team to review the new program and processes and get their feedback and thoughts.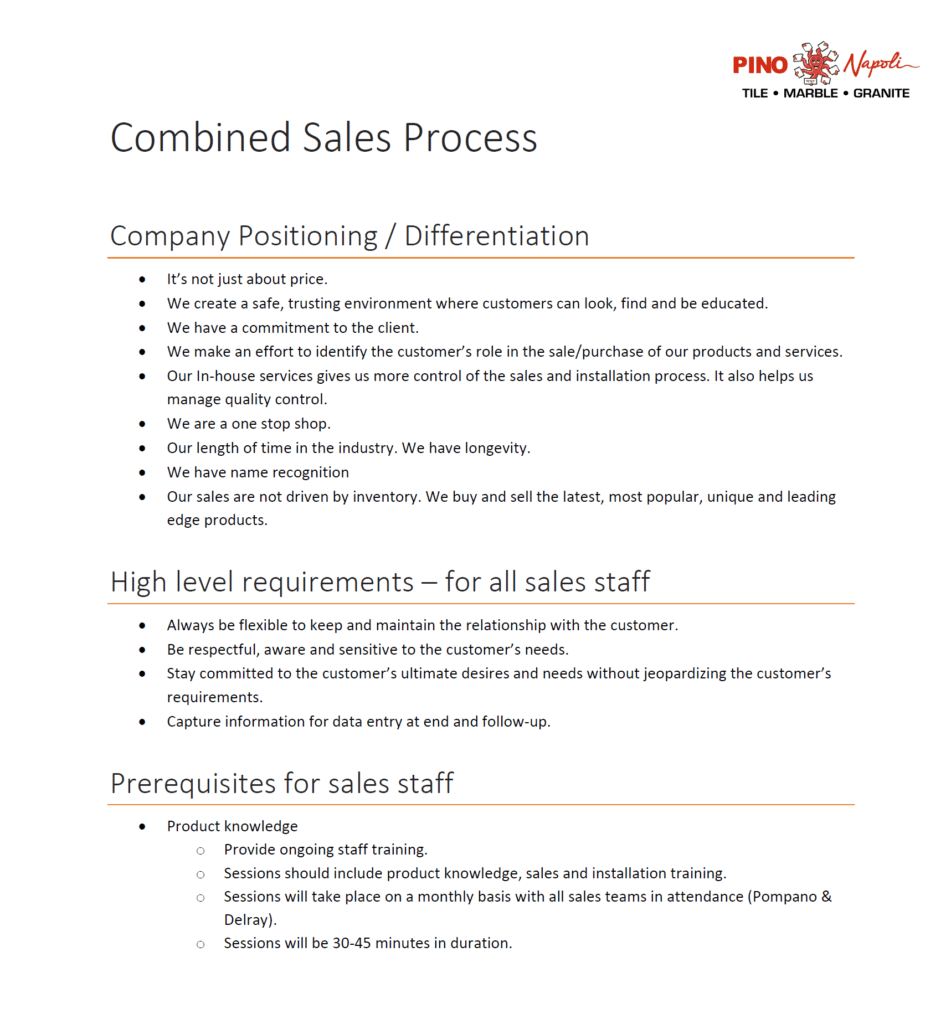 At this time, we also instituted quarterly sales meetings to review the previous quarters' results, reward the high performers, and develop a plan of action for the next quarter's objectives. The new program included cross-training so each sales rep would have the skill set to sell all products we sold. An added incentive was that anyone in the company could earn commission if they made a sale.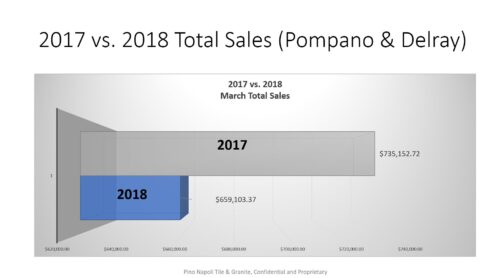 To combine our cultures, I began by establishing Guiding Principles and Company Wide Core Competencies for the combined company in both English and Portuguese (for our non-english speaking employees). At this time, I also developed Job Descriptions and Management competencies. We held an all company meeting to review and confirm alignment. Everyone received an electronic copy which they signed electronically for storage in their personnel file to confirm they agreed with the values of the company.
I then moved to developing the policies for the unified company, including drafting an official employee handbook and hired an employment attorney to review to ensure compliance with all regulations and laws.
Having a solid HR infrastructure in place with well-defined processes protected us many times against false accusations so even though in the end this work didn't save our company, we were shielded and protected from a lot.
Systems
The countertop company (Napoli) had a homegrown CRM while the tile company (Pino) managed client engagements via paper forms and email. Neither company had a unified email system. To make things more efficient and agile, I purchased Microsoft 365 Enterprise to provide a unified platform for business operations and management, fully taking advantage of many of the available applications.
For example, I replaced the homegrown CRM and paper installation scheduling processes with the MS Bookings app. This improved not only our efficiency but greatly enhanced the customer experience. I used Yammer to help drive employee engagement and recognition.
My Interview with the Boca Raton Observer discussing the early days and the unification process.
Now let's get to what did not work.
The Bad
Enabled a Shadow Culture to Thrive
The previous owners offered to provide an overview of the employees to us. The things we should know and look out for. My husband and I opted to take a "Blank Slate" approach and get to know the employees ourselves. I still agree with our decision to do this. There is often a lot of baggage that comes with history. Also, a poor performing employee may see this acquisition as a fresh start, and I am all for forgiveness, growth, and development.
I knew the acquisition was causing distress, fear, and uncertainty for some employees if not all in some measure. We also wanted (and needed) to retain everyone. The competition for talent was high. We were warned to do everything to prevent poachers and knew this time in particular made us even more vulnerable.
We wanted to give the employees a chance to get to know us and for us to get to know them. I met with some informally (in office chat/stop ins) and others more formally (lunch/dinner). My husband is more extroverted, so he would spend much of his day on our sales floor in Pompano learning the ropes and getting to know the team. My neurotype and personality could not really tolerate that environment for long stretches, so our partnership worked great in this area.
Unfortunately, a lot of bad was uncovered during those initial discussions. Really, bad things where I needed to consult our employment attorney on how to best address them. I began investigating and looking into some of the grievances and we made process changes. Only looking back can I see how wrong I was in doing this. We moved too quickly and without even realizing it, gave an impression of rewarding bad behavior to other employees. For instance, if multiple employees reported a similar grievance against a peer or manager, we took it seriously. The previous owner had a do the work and leave me alone approach, so I decidedly took a polar opposite approach and had an open door, talk to me about anything at any time approach. There is absolutely nothing wrong with this, but we both should have been more guarded and wary of some of what we were hearing from the employees.
What we did not realize at the time was there was a shadow culture lurking.
The mistake was believing without question some of these horror stories and then and acting too quickly without all of information necessary to make the best decision. Shadow cultures are hard to root out and they take time to dismantle.
The Ugly:
Fear driven Strategy
I am not exactly sure where to begin with this one because it is difficult for me to admit that our actions reflected this, but my husband and I both have acknowledged to each other that our collective fear of failure caused us to delay some actions that needed to be taken and take others too hastily. Because we were often in survival mode, we did not address discord and inner conflict as swiftly as we would have if fear were not driving our decision making. Or we intervened too quickly, which then impacted morale negatively and put us at risk of losing people we could not afford to lose.
The Final and Fatal Blow
We Didn't Scale Properly aka "We grew too big for our britches"
When you speak about owning a business in the past tense, the next question you get 100% of the time is, "what happened"?
So, remember when I mentioned earlier that we implemented a new Sales training program? Well, it was remarkably successful. At the time of closing, our total monthly sales averaged around 500K – 600K. A 700K month was rare and only occurred during the busy season. Well, in July 2018 we hit our first $1M month, and our business never recovered from it.
Due to the nature of the work, business, and location, we were in a non-stop Recruiting and training cycle as we were constantly needing to replacing Sales employees and Fabricators. I am not sure if I went a week without interviewing someone during our final miserable year.
The sales continue to come in, but operationally we were failing. The employees could not keep up with the volume of work and costly mistakes started to happen. By this time, we were taking on hotels as far south as Key West, we were doing jobs in Palm Beach and everywhere in between. If you recall, we dealt in luxury products for large commercial jobs and "Real Housewives types," and the materials must be purchased before the job begins. If the builder didn't get paid, we didn't either. This began happening increasingly, and cash flow dried up and we just could no longer sustain the business. We were unable to find new buyers or take on new partners and painfully decided to close the doors.
We kept on a small group of employees and finished what we could.
We shed a lot of tears, lost a lot of material stuff, and maybe even a few years off our life, but I can say now a few years down the road that this experience changed us for the better and even through the loss and pain and ongoing issues that we're still dealing with, I am grateful for this failure. I am changed.